Kenton Whitman, ReWildU Co-Founder and Forest Monk Guide
As head instructor at ReWild University, Kenton inspires students with his "You Can Do It!" attitude, even as he delivers physical, mental, and emotional tools of self-empowerment based on both ancient wisdom and modern science. A seasoned bushcrafter and survivalist, you can see his wilderness skills in action in his Paracord Bracelet Survival Challenge Video, or his Extreme Winter Survival Overnight, and get a feeling for his personality and teaching style through his other videos on the ReWild University YouTube channel.
Kent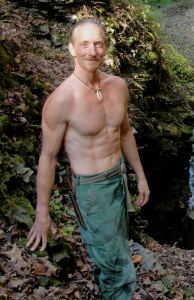 on has always had a deep passion for nature, having been blessed with a childhood of climbing trees, catching turtles, and stalking snakes. He began his formal wilderness training with an apprenticeship at the Teaching Drum outdoor school during his teens, and has been inspired by the writings of Tom Brown, John Muir, Thoreau, and Samuel Thayer, among others.
With over 31 years of mixed martial arts experience including Southern Praying Mantis Kung Fu, Muay Thai, Shotokan Karate, Aikido, Chin Na, and Jujitsu, Kenton has served as a trainer for everyone from security guards to personal trainers to cage fighters to developmentally disabled teens. He received his NASM personal trainer certification in 2001, and is a teacher of wilderness survival and women's self defense. Black belts of other martial arts come to him for training. His internationally known website on non-dualism, now archived and available only to students, has established him as one of the world's most lucid teachers of awakening from society's hypnosis, and his physical skills range from rock climbing to horse training to parkour to gymnastics. He has over two decades of wilderness skills training, and over fifteen years experience as a fitness trainer and life coach.
Kenton's re-wilding philosophy is that by devoting ourselves to developing our own natural "quality of being" (including physical, emotional, mental, and spiritual fitness) we are more able to experience, enhance, and contribute to the world. In the same way that strength and agility will allow us to climb to the top of a tree and see the view from the upper branches, enhancing our abilities in all areas of life allows us to explore life with more wonder, curiosity, and passion. Life is to be Lived, and we enrich others not by personal sacrifice, but by serving as an inspiration.
Rebecca Whitman, ReWildU Co-founder and Guide
Rebecca helps bridge the gap between "hard core" survival attitudes and living sustainably in the civilized world. Though certainly capable of living wild, she loves many of the things that civilized life has brought us, and finds ways to beautifully integrate these two aspects of living.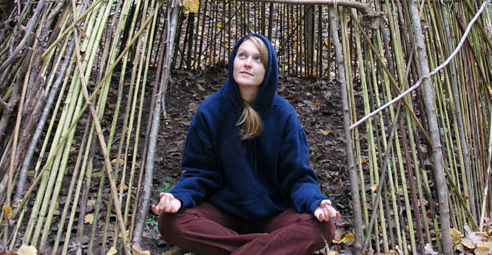 Rebecca is our resident plant guide, sharing her love and knowledge of edible and medicinal plants. Her approaches range from using well-established modern herbalism practices to personal entrainment with individual plants. Of special interest to her are primal childrearing techniques, allowing children to grow up with as little civilized manipulation as possible. "Let them eat dirt!" she says.
Brett Harris, Forest Monk Guide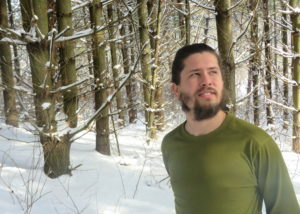 After over ten years as a software developer, Brett made the choice to shift to a simpler life. After nearly nine months of living in ReWild U's primitive camp, he has developed a familiarity with wilderness living skills that can only emerge out of really "living it". As an instructor, he shares his knowledge of woods lore, ancestral skills, practical woodland living, and primal fitness. His love of plants has led to a familiarity with green things that goes beyond just using them for food or tools.
Having walked deeply in "both worlds", Brett helps students bridge the gap between the forest and our civilized life, displaying how the skills from one enhance life in the other. His role as a developer has given him tools for problem solving and dealing with stressful situations, as well as a unique insight into the ancient wisdom teachings that he loves, opening the door to exploring the intersection between creating "virtual" worlds and considering the nature of our own reality. Students will gain insight from discussions with Brett where he helps students question their assumptions, and begin to unravel the tangle of conceptions and judgments that hold us back from experiencing the depth of Being.