What makes ReWild University classes different than other "survival" schools? Although you'll learn wilderness skills that will enable you to meet even the most intense survival situations, at ReWildU you'll receive something truly unique  — a guided exploration into the depths of your being as you discover the pathway to forging your body, mind, and spirit into their most powerful forms.
Want to come have some fun in the woods while you learn the skills, mind-set, and fitness of your ancestors? ReWild University offers numerous options to get rewilded! We're based near Cable, Wisconsin, USA.
Every year we offer different class options. In 2017, we are offering: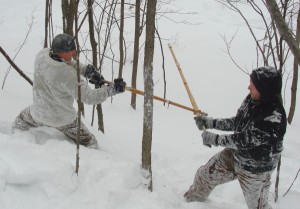 Forest Monk 4-Month Training Program: For four months you will live immersed in the vast wilderness of northern Wisconsin, forging your body, mind, and spirit with other Forest Monks in a tribe-like setting. This is our most powerful program yet if you want to make immense transformations in a short time.
Forest Monk Online Training Community: A super-affordable online option for people who want to devote themselves to personal evolution and to connect with other like-minded adventurers.
ReWild Your Mind Online Video Course: Our first online course takes you in-depth into the cultural conditioning that shapes our attitudes, preferences, relationships, and self-limitations. By understanding how these mechanisms affect us and learning how to break free, you'll begin to unleash your inner nature. With detailed practices and clear explanations, Kenton will be your virtual guide as you embark on the most life-changing journey of all — rewilding your mind.

ReWild You! Mentoring: Online mentoring allows students to work with Kenton from anywhere the world. Communicating via email, you will have a mentor on your rewilding journey, using proven methods to help you develop more personal resilience, break free of cultural constraints, and to realize more joy and adventure in your life.